Eulogy Speeches Made Easy . . .
Are you feeling an agony that no one else can understand…while everyone is counting on you to be strong and give the important speech at the funeral? Are you wondering… and perhaps not entirely sure if you really can?
"Discover How To Deliver The Most Touching, Memorable, Heartfelt Eulogy For Your Loved One… That Encapsulates Their Entire Life And Everything They Meant To Their Family, Friends And Others… Despite The Pain, Stress And Deep Grief Of Your Sudden And Unexpected Loss… Even If You're Afraid To Speak In Front Of People…And Even If You've Never Written Or Given One Speech In Your Entire Life!"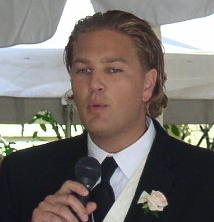 Ryan Ringold
- President of EulogySpeeches.com

Dear Friend,
Delivering a eulogy speech for your loved one is an honor bestowed on a person who is deeply respected, trusted and loved.

If you have ever been asked to deliver a eulogy for the loss of a loved one you'll understand the deep honor that has been placed upon you as well as the fear that can overwhelm you.

90% of people rate speaking to a group as their greatest fear. Combine that with the stress and grief of a deceased loved one and the responsibility of helping everyone at the funeral start to heal.

You may feel like no one else understands your agony. I have cried these tears .... Now I want to help you make things easier for you.

Allow me to tell you a story about two women, a mother and daughter. Both of these women were smart, articulate, energetic, and unfortunately, like you had to give memorial speeches for loved ones.
The Mother, who was speaking at her husbands funeral, was a wreck. While nobody thought any less of her, she still feels guilty about not giving a proper speech to commemorate her husband. He was a good man, and everyone knew it. This woman just never felt like she did him justice.
The daughter, years later, spoke at her grandmother's funeral. Her speech was touching, caring, loving, and respectful. She stayed composed and gave a eulogy that helped everyone at the funeral start healing.

What was the difference?
Why did one woman fall apart and is still feeling guilty while the other woman was great.
The answer is preparation and practice.
Understand that both women are smart and loved the deceased. The daughter understood that during the most stressful time in anyone's life (the loss of a loved one) the only way to truly deliver a beautiful and fitting memorial to the beloved person is by preparing and practicing the eulogy.
She had an outline of loving and sentimental eulogy speeches to follow and help with her grandmother's eulogy.
Now you have help, too!


Lets Take A Look At What You Get When You
Secure Your Copy . . . Of Eulogy Speeches

In this Ebook you will discover how to:
· Deliver a dynamic eulogy combining humor, sentiment and spirituality that will leave people deeply moved and celebrating the life of the departed.
· Gives you 6 steps to writing a eulogy that puts you in control of your thoughts and emotions when delivering one of the most important speeches of your life.
· At least 3 rules to follow when writing eulogies. The difference between a good eulogy and a bad eulogy is the difference between a caring, loving memorial that will add to the memory of the departed and a bumbling speech that will leave the listeners less than comforted and leave you with feelings of guilt for years to come.
· Exposes you to the craft of the speech writers who have written eulogies for Princess Diana, JFK JR, Ghandi and others so you can capture the legacy of your loved one as if they were royalty.
· Finds the perfect words to capture the hearts of your audience giving you the confidence to deliver a touching and powerful eulogy.
· Use this simple strategy to instantly overcome your 'stage fright' ... and answer all your 'confusing questions'. Imagine being able to relax and deliver your eulogy eloquently.
· REVEALED: What the one and only task of your eulogy is. It's not what you think it is. This little gem is worth its weight in gold!
· You'll get a 7-point checklist to use when writing your eulogies. Learn how to use the power of free association to craft and deliver a wonderful eulogy.
· Where to find inspiration for ideas in your eulogy. To often when we are faced with emotional, overwhelming circumstances our minds go blank. You will discover how to find inspiration after reading this book.
· Learn why using an outline is critical. Miss this crucial step and your eulogy will fall down like a bunch of smothering coals. Each word in this book is designed to help you deliver the best eulogy possible for your loved one.
· Even famous speakers experience anxiety, nervousness and fear. We give you 10 fear conquering steps so you can deliver a heart felt eulogy.
· You'll be amazed how you can take our easy world class eulogy templates, change a few words, simply change the layout, add some quotes, some poetry . . . even humor that will captivate and comfort your listeners.
· Want to quickly "unlock" your inner thoughts about your lost loved one? Here's a simple technique that top Psychologist's use.
· There are many ways to outline a eulogy. We reveal the most powerful and effective tips that will put your brain into overdrive and cause you to write down your thoughts so fast, your fingers will hurt.
· Should the eulogy you deliver be sad, serious or humorous? Here's a little known technique that help YOU to find out.
· 4 critical reasons why you must use an outline.
· Let's face it. Some people are not perfect. If your loved one had negative qualities, here's a proven and effective way to address this touchy issue and deliver a eulogy as if you were best friends and could even put a smile on the face of your loved one's enemies.
· Learn step by step how to write a eulogy. With this program you will have a 'paint by the numbers' process to develop a touching and wonderful eulogy.
· How to write your 1st draft. Not only is this the basis for the eulogy and the most important step, but done properly it can be a healing process for you AND your listeners.
· How to wake up the eulogy writer genius inside you. Learn the "lazy speech writer's" secret to instantly breaking through "writer's block" ... and effortlessly creating the perfect eulogy.
The one thing you must do before even thinking
of putting pen to paper ... that will help you
create your loved one's perfect eulogy.

How to create the right amount of emotion in your
eulogy which sends your listeners on an
experience as though a real life movie is
playing celebrating the life your loved one
lived.

. . . and much, much more.
" Took Me From Zero Knowledge To
Knowing Exactly What To Do"
"Hi Ryan, would like to take this opportunity to thank you for the great guidelines you have provided to me in your e-book regarding crafting a eulogy. I feel very confident now that I will be able to deliver a eulogy without fear and more importantly give my loved ones the outstanding tribute they deserve.
I sincerely thank you and appreciate your effort for bringing this to the world!."
- Alexander O - Amserdam +44 (0) 2030118264

This May Be The Hardest Thing
You've Ever Done - It Doesn't
Have To Be That Way.

I understand. Standing in front of people, in a highly emotional state, and staying composed enough to finish a memorial speech can be the scariest thing you will ever do.

As a matter of fact most people say their biggest fear, when in your position, is just finishing the speech. They are afraid that they will break down so bad that they can't even finish the speech.
Let me tell you, nobody will blame you for crying.
Nobody will blame you for being emotional.
Nobody will blame you for pausing to finish the speech.
Nobody will blame you if you can't finish the speech.

But I know you would like to finish. I know you would like to do the memory of your loved one justice. I know you would love to give your loved one a fitting eulogy speech.
That is why I wrote this eulogy speech product. For people like you, so you don't have to face this alone. My e-book will be like having me, a professional eulogy speech writer next to you coaching you all the way. You can work on the speech anytime day or night and this "coach" will be there for you.
You will get examples of:

· Eulogies For Fathers: You'll discover the inside secret of how to reach deep inside your heart and retrieve every attribute that made you feel loved, protected and cared for by your Father… and to access your brain to download every rich, fond memory, and great quality that made him seem larger than life when you were a child. And, that transformed him into a mentor, coach, counselor and friend… as you grew into adulthood!

· Eulogies For Mothers: Imagine how empowering it would be use the vital information in this section to create and deliver a eulogy that brings comfort, hope and strength to the hearts of your mother's family, friends and others.

· Eulogies For Sons: It will take you by the hand, and gently guide you step-by-step in writing and delivering the most courageous, thoughtful and memorable eulogy for your son… despite the pain and grief you feel in the face of every parents worst nightmare.

· Eulogies For Daughters: It's very painful for you to accept this, but you know you must. As you mourn, it's easy to focus on the horribleness of what has taken place. However, the life-giving words found in this section will unlock the secret of how to celebrate your daughter's life. The wonderful woman she was, the beautiful life she lived, and the lives she touched!

· Eulogies For Husbands: Which means that when you're at a loss for words because you're deeply saddened by the loss of the most important person in your life… these powerful words of inspiration and healing can speak for you! Imagine the comfort that would bring to you and your family.

· Eulogies For Brothers: For you that means being given new insight on how you can celebrate the life of your brother and the contributions he made to all of you. And help to mend your sadness, and gather strength from one another in order to move on with your lives… with his incredible life forever remaining in each one of you.

· Eulogies For Sisters: Although you are deeply saddened by the loss of your sister… and could stand up there all day talking about where she was born, what kind of childhood you had together, her flaws and her strengths… these heartfelt words in this section will empower you to harness that sadness into strength, and move forward with conviction.

· Eulogies For Wives: The first time you laid eyes on her your stomach dropped. You thought she was an angel. You were nervous the first time you met too… and didn't know what to say. But, it didn't take you very long to realize that you wanted to spend the rest of your life with this woman. She gave you so many fond experiences and memories in life. It's very difficult to put those feeling into words. This section will show you how.
This package also includes eulogies for friends and eulogies for grandparents!

You can model these examples or use them as is, although once you realize how easy it is to compose a custom eulogy for your loved one I doubt you will want to.
Understand, while this is an emotional time, it does not have to be a hard task.

YOU will get 20 pre-written, ready-to-use, time tested speeches that will give you confidence by knowing the exact words to say.

They do really work so well and in ANY situation.

YOU are not getting a whole pile of templates or an outline where you have to do all of the work. YOU are getting eulogy speeches that can be used as is with just a few words changed, or you can personalize them to suit you.

Surefire Techniques To Deliver A Powerful Speech And How To Avoid Embarrassment!
The audience is expecting you to be prepared.
It's your responsibility.
I put this site up so that you, my friend, can deliver an incredible eulogy speech. Don't make the mistake of doing this on your own.
With this package you'll have the right words, the right timing, the right poems, and the right confidence to leave an ever-lasting impression with the perfect eulogy.
You can even
mix and match these speeches
in just minutes to blend your perfect speech.
Here's 4 Compelling Facts Why YOU Can
Believe And Trust What I Say Is True

FACT ONE:
My company and I are reputable, credible, and have
helped people
just like you
in over 5 different countries
. I've been doing business online since March 12, 2002. I've helped thousands of people with speeches.
FACT TWO:


I've been a public speaker for over 4 years. I've spoken at hundreds of events and to thousands of people. I'm also a writer...and I'm not bad at what I do. After all, I better be if I speak on stage and write speeches. At one event
I spoke in front of 8,000 people.
I am real I am current. When I used to write custom speeches from scratch, my fees were $125 for a
1 to 3 minute speech (sorry, I don't offer that service anymore).
FACT THREE:
EulogySpeeches.com specializes in eulogy speeches for the family and friends of a lost love one.

We don't waste your time with 101 different speeches that you have to sift through. No birthday speeches, no retirement speeches, no graduation speeches... just eulogy speeches-- period!

FACT FOUR:
I don't hide behind my web site or any fake email addresses. My direct voicemail number is 775.248.1549. It's been the same number for about 9 years and I don't plan on it changing. I answer the phone myself when I'm around and my full address and email contact information is at the bottom of this page.


"Thank you, thank you, thank you, thank you,
and thank you 1000X more"
"Ryan, I can't tell you how much your information has helped us. Obviously anytime a loved one dies it is hard, really hard. Your eulogy speech package makes remembering that person easier. It helps everyone heal. It even helps people get together and write a eulogy as a group. That really helps heal.
Thank you, thank you, thank you, thank you, and thank you 1000X more."

- Everte Farnell, Tampa, Florida
I truly want to help you . . .
You would not believe some of the mail I receive about this website. Most of it is very complimentary, telling me how my eulogy e-book has helped them get through a hard time.
On occasion though I do get the odd letter that berates me for having the nerve to "profiteer" off someone else's loss. It truly hurts when these people make such a claim.

"Ryan, I am an international public speaker and I must tell you, your eulogies book is priceless for anyone who has never delivered a speech in their life, let alone a eulogy. 15 years ago my best friend died before my eyes and I was asked to deliver the eulogy. If only your e-book had been around then, it would have made this painful process so much easier to do.

I highly recommend people grab a copy of your e-book right now."
- Trevor Crook - www.MagicWordsSell.com

I wish I was able to undo what has happened, and if I could I would. The next best thing I can do for you is try and help you get through it.
Yes, in this world we need money to feed and house ourselves. That includes me. But I am doing everything I can to ensure that you get way more than you give me.
I have included these

3 FREE Bonus Gifts

valued at $82 for you too.


'4 Eulogies Of Well-Known People'
(Value: $44.00)

You will get the beautiful and touching speeches delivered at Princess Diana's, Mickey Mantle's, Mohandas Ghandi's, and John F. Kennedy Jr.'s funerals. These people were some of the most influential and beloved in modern times.

With this bonus you can learn what others said about these beloved figures and fashion your Eulogy the same way.

These really are priceless. Imagine how much it really cost to get these 4 eulogies written. Here you get them for free.

FREE Bonus GIFT NO: 2
'10 Poems Appropriate For The Occasion'
(Value: $19.00)
Poems do convey what is in our heart. Who can express the pain, turmoil, love and laughter of life better than Tennyson, Dickinson, and Wadsworth.
Imagine having 10 poems, perfect for the occasion at your finger tips. Imagine being able to tap into the words of some of history's greatest poets to express your emotions.
No you don't have to be a poet to draw upon the power that these poems convey. You have them at your finger tips with this bonus.


'10 Fear Busters for Successful Public Speaking'
(Value: $19.00)

Public speaking is the scariest thing most people will ever do. When you add the stress of the situation in the mix, you have a recipe for sheer terror.
Imagine getting in front of everyone and just freezing. Not knowing what to say. Not knowing where to look for answers. The thought can be overwhelming.
With this bonus you will get 10 fear busters that the professional speakers use to ensure they don't freeze. No one can take away the hurt, but with this bonus, I will remove the fear.

You get my eulogy package e-book which will take you step by step through writing a wonderful eulogy. Your beloved will be smiling down upon you when you get in front of all those people and start speaking.
No one will ever forget your eulogy, no one will ever forget who the service honors. No matter how you are related - you will help ensure that the departed is remembered forever.
On top of that I am including several bonuses that I believe will help make your eulogy even better. Just for the bonuses you could easily invest as much as $82.00.
In order to truly prove I am interested in helping make this hard time in your life as easy as possible, I have arranged to deliver the e-book and the bonuses to you in a matter of minutes.
You have the ability to get this helpful eulogy information and start using it in about 3 1/2 minutes.
I am able to make this available to you for only $34.95! That's my eulogy e-book, which includes 20 different eulogies to model and step by step instructions so that you can write your own. Plus all the free gifts and you can have it in less than 5 minutes.

UPDATE: you arrived at this page just in time to take advantage of a special marketing test: through midnight on, , I've dropped the price to just $27.00 (for a limited time only). I'm doing this to see if the increase in sales outweighs my lower profit margin. If it doesn't, and you buy the speeches after this date, expect to pay the normal price of $34.95.


(Instant Download. No Waiting. No Shipping.)


If you order by the deadline you'll also get:
3 Free Bonuses!
(I can only guarantee your bonuses if you order before the deadline.)
That's a $82.00 Value For Free!
If you order by midnight, , you'll get 3 FREE Bonus Gifts! These little gems will make your day!

OK Ryan, it sounds good, but I'm still suspicious.
How do I know your eulogy package is as good
as you say it is?
That is a good question and I know you would not be asking if you were not interested in honoring your loved one as best you can. Here is the answer, I am willing to guarantee my eulogy e-book for one full year.


100% Better-Than-Risk-Free
Your "Nothing To Lose And Everything To Gain"
1-Year Guarantee!


Order my Eulogy Speeches. Read them, use them, model them, copy them word-for-word, whatever. If, at anytime in the next 1 year, you decide that you're not thrilled with your purchase ... If anyone doesn't like your speech, if you decide that you could have done better by yourself, if you have buyers remorse, or if for any other reason you want your money back, just email me and (1) all 20 speeches and free bonuses are yours to keep; and (2) you'll receive a 100% refund of your purchase price.

That's right! Any time in the next 12 full months, if you feel that this package doesn't deliver everything I promise, then you'll get a full refund. No questions asked, no B.S., no questionnaires to fill out. Just say you're not satisfied...PERIOD!

You keep everything. It will cost you nothing!

Ryan Ringold
President - EulogySpeeches.com

It's Easy To Order My Eulogy Speech Package.
Simply Click On The Secured Order Link Below!

CLICK HERE NOW TO ORDER BY CREDIT CARD
USING OUR SECURED SERVER

Instant Download!

It doesn't matter if it's 2 A.M.
We Accept Major Credit Cards And PayPal.




Only $27
I have done everything I can to assure you my pre-written, warm, loving and sentimental eulogy speeches will deliver a memorable eulogy and now it's up to you.

Warmly
Ryan Ringold
Ryan Ringold
President- EulogySpeeches.com
PS. Remember, you only have one time to deliver a truly great Eulogy for the person you are honoring. Do not leave anything to chance. With my e-book and bonuses you will deliver a great eulogy, and truly your loved one will smile on you when you deliver it.

PPS. Don't forget the reduced price is a limited offer until . PLUS if you order by this date you will get the 3 FREE Bonus Gifts valued at $82.00. Place your order now!
PPPS.
Once again, I want to express my sincere and heartfelt condolences on your loss. It is my belief that this eulogy speech e-book will make everything much easier for you. If you decide to try it,
don't forget it is 100% guaranteed. If you don't love it, I will give you your money back and you can keep the book and all the bonus's.
Either way, all my best.